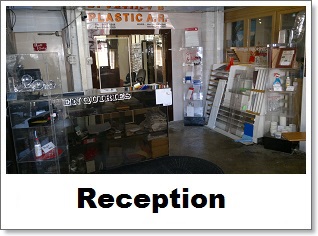 Family business, 1st generation, started in 1950.
Long years of experience and expertise through the Family in The Plastic World.
We are importers of most plastic products, manufacturers of most plastic work.
We stock a Huge Range of Colours, Patterns & Thicknesses Hard to Find Anywhere in Sydney.
We are located in the centre of SYDNEY, within easy access from major roads and the M4 motorway.


We specialise in supplying local industries and households with their plastic needs. We wholesale and retail Sheets / Rods / Tubes in various types of plastics, we also cut to size and shape, laser and CNC cut. We machine, weld, glue, shape, mould, bend, drill and polish most plastics with machinery and tools specifically acquired and designed to deal with a wide range of plastic manufacturing techniques.
So for all your Plastic Needs, for any inquiry you have, give us a call, come in to our showroom, fax, email, click on the CONTACT US link above for details.